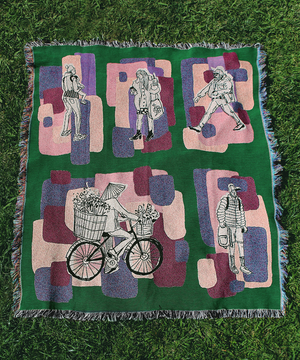 Project Woven Throw / Jungle City by Veter Dan
Project Woven is an ongoing concept in collaboration with artists near + far that explores the connectedness between individuals, communities, and all that surrounds us.
Fiber of My Being! is the first series that features work by AAPI artists and seeks to examine the intertwining threads of our heritage, personal histories, and shared experiences to raise funds for organizations that are taking action against the rise of anti-Asian hate crimes and violence.
Proceeds from Fiber of My Being! will be donated to the commUNITY Action Fund founded by Hate Is A Virus. This initiative is raising $1M for boots-on-the-ground community organizations including mental health services, safety and care for our elderly, and efforts that build solidarity within and between BIPOC communities.
About the Artist
Veter Dan is an architect, designer, Bay Area native. His inspiration is drawn from regularly oscillating between life in the heart of the city, and life in the wide open suburbs. Using human diversity as the subject matter, and nostalgia as the color palette, Veter aims to create pieces evoking a story, time & place. 
Dimensions: 54" x 62"
Woven in North Carolina.
Please allow 3-5 weeks for shipping.