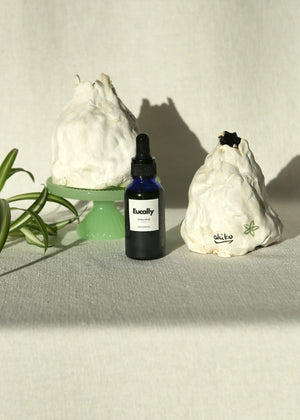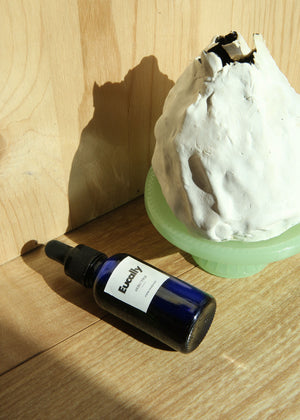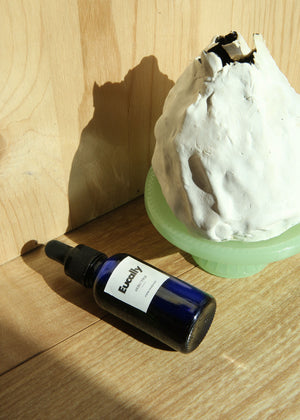 Eucally Room Fragrance
A custom essential oil blend with a unique, handcrafted ceramic fragrance vessel by Akiko Tsuji. 
The Eucally scent is a unique and invigorating blend of citrus, basil, and cedar in organic jojoba. Evokes the memory of washing freshly picked herbs in the springtime with a warm breeze blowing through the window.
How to use the Eucally Room Fragrance:
Open the blue fragrance bottle and using the pipette, draw the fragrance oil.

Dispense 5-8 drops of the oil into the top well of the sculptural object.

Set the object on your favorite shelf or side table and wait for the scent to envelop your room.
Akiko Tsuji is a San Francisco-based designer of bespoke clothing and explores her vision through many mediums including ceramics and painting. She created her line when she realized that in the world of increasing hype, there lacked fashion that was intimate and personal. With a focus on crafting garments without mass production, her work is centered around a true consideration of the wearer. In her pieces you can see the embrace of innovative draping and thoughtfully selected fabrics that suit the designs.
Akiko's influences range from Bauhaus to David Bowie, and current artists like Sterling Ruby and Karla Black, and they all have found their way into the creation of her work as much as her residencies in New York, Los Angeles and San Francisco. "I am inspired by sounds that I hear, simple moments that reveal new poetry, etc. but mostly by the artistic spirit of confident women. They complete the garment, they give it life."